By Lola Quintela:
Drummers, a parade, and rousing speeches gave last weekend's northern Virginia Women's Summit a charge of excitement while breakout sessions allowed participants to dive deep into important issues at the sold-out event.
Northern Virginia lawmakers at both federal and state levels energized the estimated 1,000 participants at the 3-day event, June 28-30, and strategized on the campaign to turn Virginia blue in the state-wide election on Nov. 5.
The tone was set early when Barbara Jones, a  founder of the sponsoring group Network NoVA, led a chant at the Friday night opening at the Hilton McLean Tysons Corner Hotel : "Fired up! Ready to win!"
Rep. Gerry Connolly (D- 11) gave the keynote on Friday night's gathering, reminding his audience, in keeping with the theme of the evening, "Going Local," that "the buck stops with your local official."   All local Democratic candidates for Fairfax County School Board, Board of Supervisors and Commonwealth's Attorney then came onstage, joined by the Democratic  local candidate delegation from Prince William County, which contains more Democratic candidates than in the last 40 years.
Amy Ashworth, candidate for  Commonwealth's Attorney in Prince William, vowed, "I'm going to build on my predecessor's work and make it better as the first woman elected to this office in Prince William County. "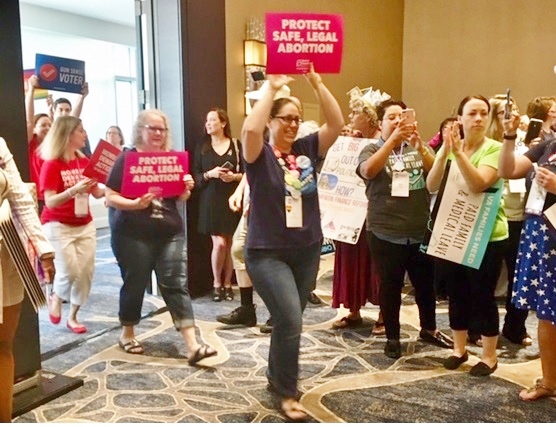 Saturday's theme was "Virginia is My District." Sen. Mark Warner (D- Va) delivered the keynote, saying,   "What you did in 2017 shocked Virginia. What you did in 2018 shocked the nation."  He called for an even more shocking 2019. "If you think that it's important to send a message to Donald Trump, then you must go out there and work your heart out."
Then, an all-women drummer group, Banda Feminina Batala,  took the stage by storm while a "Parade of Power," featuring state delegate and senate candidates and incumbents, wound their way, waving signs, through the audience.
Participants got to work in the afternoon breakout sessions, with a broad range of topics, such as "Canvassing, "  "A Conversation about Racism in Everyday Life, " and  "The Shocking Truth About Income Inequality."
The evening concluded with the "POWER Jam," featuring short films, authors, singers, comedians, storytellers and others. "An evening of powerful women giving powerful performances," as the sponsor, Network NoVA termed it.
Sunday's focus was national and began with the "BADASS breakfast" at which Reps. Conolly, Don Beyer (D-8) and Jennifer Wexton (D-10) all spoke.  Beyer urged all members of Congress to make a pledge that they would not serve on any panel that was all male.
Wexton recalled that, "Congress has passed the first gun violence prevention legislation in decades. You made 2017 happen. Then again, you made 2018 happen. You can make 2019 happen as well. Because BADASS Women get things done."
Many in the audience seemed delighted with the large number in attendance, the energy shown by speakers and participants alike, and the opportunities for networking and meeting people. For example, Virginia Smith, a candidate for state senate in district 15, said, "There is nothing like the power of women coming together."
Sister Simone Campbell, a social justice activist and member of Sisters of Social Service, gave an appropriate benediction as one of the summit's last speakers, urging everyone to be "holy mischief makers."
Lola Quintela is Corresponding Secretary of Fairfax County Democratic Committee
Main photo: Banda Feminina Batala beats a strong rhythm at the Women's Summit/ Photos by Lola Quintela