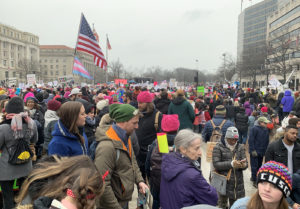 There were fewer marchers and even fewer pussy hats at the 3rd annual Women's March in Washington, D.C. on Saturday, Jan. 19, than in past years, but the spirit and message of those who showed up was strong. Organizers estimated that about 10,000 people marched down Pennsylvania Avenue and attended the rally at Freedom Plaza, one of the events taking place in 300 cities around the country.
The lower turnout could have resulted from controversy surrounding this year's marches and supporters stepping back. Women's March Co-President Tamika Mallory has been under fire for supporting Nation of Islam leader Louis Farrakhan, known for a history of making anti-Semitic remarks. Several of the Women's March partners, including the Democratic National Committee, American Federation of Labor and Congress of Industrial Organizations, the Service Employees International Union, NARAL Pro-Choice America, the Human Rights Campaign and more were not on this year's list of supporters. Planned Parenthood did lend its support.
But for those who turned out, their message was loud and clear. Trump has got to go.
—Karen Kirk / The Blue View Deputy Editor / Photo Editor
Photo at the top is of marchers gathering at Freedom Plaza. The @TrumpThankUNext refers to a spoof video in which the president appears to sing to pop star Ariana Grande's latest hit "Thank U, Next."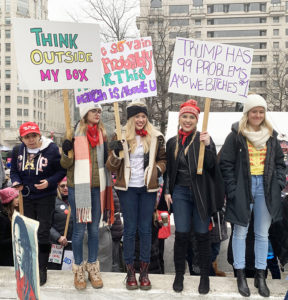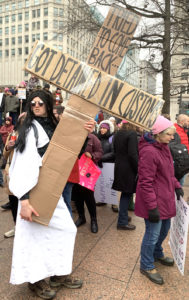 There were lots of smiles and biting signs at the march and rally. At right, Ethan Tobin from Boone, N.C., has an idea of how Jesus would be treated if he tried come to America.
---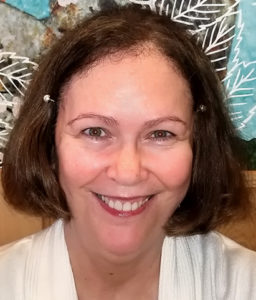 Karen Kirk is the Deputy Editor/Photo Editor of The Blue View and a retired journalist who worked for the Knight Ridder/Tribune News Service, which later became the McClatchy/Tribune News Service.